About the Design
Sports Backers teamed up with Mickael Broth aka The Night Owl to create an exclusive design celebrating the robust and unique mural and street art scene in Richmond, Virginia. The 2021 design features elements inspired by the RVA street art scene and the artists that created them, including eleven well-known artists from around the globe.
"I'm stoked to contribute to this event. While many cultural activities have been unavailable to us over the past year, the murals that grace our walls, and help define so many spaces around the city, have remained accessible works of art for everyone to enjoy," said Broth, who has painted over 200 public murals throughout Richmond, the United States, and Europe since 2012, in addition to helping curate multiple public art festivals and publishing the popular book Murals of Richmond. "We have an incredible collection of murals here, on par with any other city in the world. The connections built between the international community and local artists have helped shape the narrative about what our city hopes to become, and I hope people participating in the RVA Street Art Run will feel those connections as well."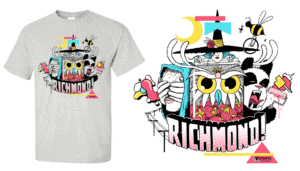 Snag one of these limited-edition shirts and join the RVA Street Art Run. Register Now!