Event Info
How far can you run in 12 or 24 hours?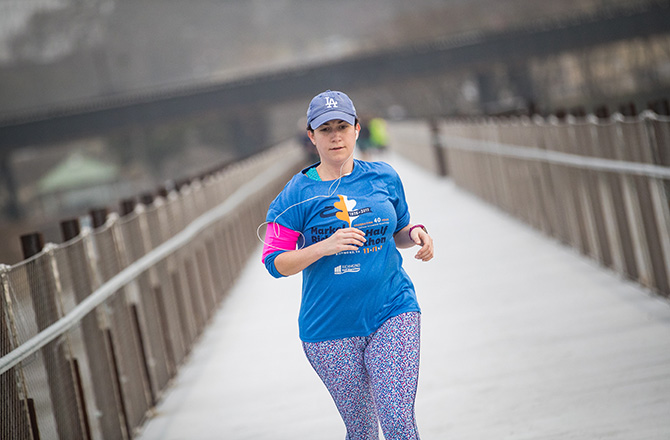 We know many people can run 26.2 miles, but have you ever tried to run further in a single day? There is no better time to do something you'll remember for the rest of your life—on February 19-20 discover what you're made of by participating in the 24 Hours of Richmond. Your mind, body, and grit will be put to the ultimate test when you set out to discover just how far you can run in 12 or 24 hours. Sound intimidating? It's not! You can run/walk consistently or break it up throughout the day. Accept winter's toughest challenge and run with us!
If you're interested in conquering even more miles, check out this inspiring story of a woman who ran 60 miles in 24 hours.
Schedule
Saturday, February 19 at 9am to Sunday, February 20 at 9am
Cost
12-Hour Division: $75
24-Hour Division: $100
Includes:
Hooded sweatshirt
Finisher medal
Custom belt buckle (For finishers who complete 100+ miles in 24 hours)
Event Details
You will register for either the 12 or 24-hour division. The chip-timed Powhatan Park course will be open from Saturday at 9am to Sunday at 9am. Once you are ready, cross the timing mat and begin your first 3-mile loop. Your mileage will accrue each time you cross the timing mats.
Plan your 12 or 24 hours so you'll have time to eat, hydrate, change clothes—how you choose to tackle this event is up to you! You can rack up big miles and then brag about it with your great participant swag!

Aid Station Information
There will be an aid station near the start/finish line which you will pass each time you complete a lap during your 12 or 24 hour challenge. On Friday from 9 AM to 4PM, the aid station will be stocked with water, nuun and a variety of salty and sweet snacks. These grab and go snacks may include pretzels, potato chips, gummy bears, bananas and gels. After 4PM, and for the remaining duration of the event, you can expect all of the above in addition to some warm food items. Warm food items may include warm soup and sandwiches, pancakes, potatoes, and warm water for making hot chocolate or coffee.
If you have particular food items that you would like to bring with you for your adventure, you are more than welcome to carry them with you in a hydration pack or hand bottle or you are welcome to leave them at your campsite or in your car. You will be able to leave the race loop to access anything you need to refuel. Additionally, if you plan to bring a crew with you, they are welcome to hold your fuel items with them while you are running.
Results
Results will be ranked by mileage completed from each division. Your chipped bib will trigger each time you cross the timing mats to start your next loop. Once you complete your last loop, return to the check-in tent to close your results.
Virtual Option
You can complete your miles anywhere you want, including on a treadmill! This is about how many miles you can cover and not the speed in which you cover them! You will just need to keep track of your mileage with an app (such as Strava, Run Go, or Trailfork) to validate your total distance. Submit your mileage to be a part of the official results.
Deferrals
You may defer your registration from the 2022 24 Hours of Richmond to the 2023 event for a fee of $15. Deferred registrations may not be transferred to another person. Refunds will not be issued under any circumstances. The deadline to defer is Saturday, January 29. 
Event Rules
You must be at least 15 years old to register before or on race day
Once received, entries are non-refundable. Entries may not be transferred or given to another person. See below for additional policies.
Cancellation Policy
Entry fees are non-refundable, even in the case of a race cancellation, event postponement, even format changes, and/or if you are unable to participate. Race numbers and entries cannot be transferred to another person. No exceptions. This means once we have received your entry, you will not receive a refund if you cannot participate, and you may not give or sell your number to anyone else. Anyone found participating with another person's number will be disqualified and both people will be barred from future Sports Backers events, including the Ukrop's Monument Avenue 10k and VCU Health Richmond Marathon. Sorry y'all, but no dogs allowed.
Featured Sponsors