Fitness Warriors Prepare for Healthy Holidays and an Active 2021
By: Tiffany Copeland, Fitness Warriors Program Manager
---
2020 has been a year like no other. Like you, all of us associated with the Fitness Warriors program have moved and stretched in ways we once thought impossible, but here we are. With one month left in the year, we're preparing for longer nights, colder days, and more good times with our Fitness Warriors family (#Fitfam) on Zoom!
Zoom has been home to many of our Warrior classes since April. From Monday night Zumba with Arlene to the Thursday afternoon Chair Fitness dance party with Theresa, the Fitness Warriors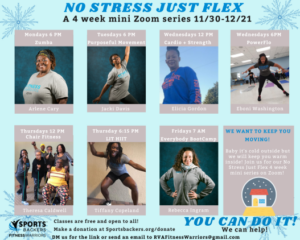 have continued to encourage the community through free fitness classes that offer a variety of modalities. As we continue to move forward, this winter will be no different. Our new 'No Stress Just Flex' concept launches on November 30th and offers participants seven fun, free ways to keep moving between the holidays. This four-week virtual mini-series will help you finish 2020 the heathy way!
In addition to keeping you moving, we will keep building the program and adding the newest members of the Fitness Warriors family with applicant interviews later this month. Following interviews, the program will begin training the 9th class of Fitness Warriors in January of 2021. At the successful completion of their 24-week training these community leaders will help expand the impact and reach of the program throughout the Richmond region with Zoom and socially-distanced outdoor options.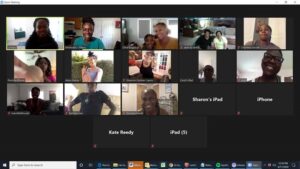 We are honored to be able to keep the community active and moving safely during these times and invite you and your family and friends to join us for a free class! Take a look at the complete class schedule, and be sure to keep moving and stay safe!