Allianz Partners Richmond Marathon awarded Virginia Tourism grant for 2022 event
$10,000 grant will help enhance event reputation as 'America's Friendliest Marathon'
---
RICHMOND, VA – Sports Backers, the nonprofit organizers of the Allianz Partners Richmond Marathon, today announced that they have been awarded a $10,000 grant from the Virginia Tourism Corporation (VTC). The grant will help enhance the marketing and outreach efforts for the 2022 Allianz Partners Richmond Marathon, taking place on November 12 in downtown Richmond. 2022 marks the 45th running of the event.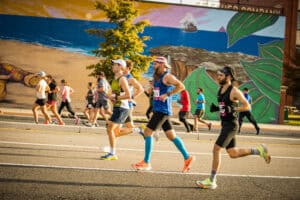 The support of the Richmond community, including runners, volunteers, spectators, sponsors, and event partners, has helped the Allianz Partners Richmond Marathon earn the reputation as 'America's Friendliest Marathon.' Sports Backers aims to use the VTC grant to enhance that reputation and showcase the brand to a national audience leading up to this year's event in November. Spectacular scenery, operational excellence, and a memorable running experience are the hallmarks of the Allianz Partners Richmond Marathon, and the support of the VTC will help Sports Backers share that story with running enthusiasts across the country.
The Allianz Partners Richmond Marathon is consistently recognized as a premier race experience, earning accolades such as 'Top 15 Fall Race in the U.S.,' 'Top 20 Marathon in the U.S.,' and a 'Best Bet for a Boston Marathon Qualifier.' The Allianz Partners Richmond Marathon and associated events, including the CarMax Richmond Half Marathon and VCU Health Richmond 8k, also helped Richmond earn the distinction of being one of the 'Top Racing Cities in the U.S.'
Capping the race experience for participants is the scenic and celebrated finish line at the intersection of 5th Street and Tredegar Street that offers sweeping views of Brown's Island and the James River, followed by a post-race party on the riverfront.
"On behalf of our sponsors, partners, and race committee, we greatly appreciate Virginia Tourism Corporation's investment in the Allianz Partners Richmond Marathon," said Megan Schultz,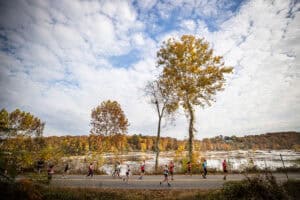 Chief Operating Officer for Sports Backers and Race Director for the Allianz Partners Richmond Marathon. "They share our belief in the importance of active living and its role in creating vibrant places to live and visit, and we're looking forward to using this grant to expand our reach to participants leading up to this year's event in November."
Earlier this month, Governor Glenn Youngkin announced that Virginia Tourism Corporation (VTC) awarded more than $2.7 million for 259 local and regional tourism marketing programs across the state to help increase visitation and revenue for Virginia's localities through tourism.
"These grant funds provide an important opportunity for communities across the Commonwealth to accelerate recovery efforts and continue with their best-in-class marketing initiatives to attract new travelers," said Rita McClenny, president and CEO of Virginia Tourism. "Increased visitation translates directly into revenue generation, underscoring tourism's important role in stimulating economic growth and expansion."
Registration for the 2022 marathon, half marathon, and 8k is open, and more information on the event can be found at www.RichmondMarathon.org.
Sports Backers Marathon Training Team Kicks Off June 4 & 5, with Price Increase on May 18
Sports Backers' Marathon Training Team kicks off its 21st season on June 4 and June 5, with weekly group training runs taking place at Sports Backers Stadium.
 The Sports Backers' Marathon Training Team is a proven 23-week program that has successfully trained over 18,000 people for the Allianz Partners Richmond Marathon since the team's inception in 2002. Roughly 30 percent of team participants will be training for their first marathon. The program is led by experienced coaches who are eager to provide motivation and guidance in a supportive setting to help participants achieve their goal of completing 26.2 miles.
The Marathon Training Team registration fee of $175 includes a free entry in the Allianz Partners Richmond Marathon, along with a Marathon Training Team shirt, a technical race shirt, an electronic guide book with a detailed schedule to follow, clinics, organized weekly runs with knowledgeable and supportive coaches, and special race-day support along the course from coaches.
Income-based rates are available for all Sports Backers training teams. These rates are offered to those who qualify and would otherwise not be able to participate.
Marathon Training Team registration is open through July 5. For more information and registration details, please visit www.richmondmarathon.org/training/marathon-training-team/.
###
About Sports Backers
With a key message of Let's Go, RVA, the mission of Sports Backers is to inspire people from all corners of our community to live actively. A non-profit organization, Sports Backers is dedicated to producing nationally recognized quality sporting events and programs that motivate residents and visitors alike to be more active, supporting youth running and fitness programs, and advocating for safe and connected networks of bike and pedestrian infrastructure. Learn more at www.sportsbackers.org.
About Virginia Tourism Corporation
Virginia is for Lovers is one of the most iconic and recognizable travel brands in the world. Using that powerful brand equity, Virginia Tourism Corporation (VTC) is charged with promoting the Commonwealth as a premier travel destination by showcasing all there is to love in a Virginia vacation. The dollars spent by travelers fuel the economy, provide jobs for Virginians, and improve communities across the state. Simply put, tourism helps make Virginia a great place to live, work, and vacation. Learn more at virginia.org.